In this article, We have got you covered with Karwachauth vrat katha, poojan vidhi and mantra to recite.
In the auspicious month of Kartika and the fourth day of Krishna Paksha , women from north India keep one day fast Karwachauth for their husband's longevity and happy married life. Karwachauth vrat signifies and celebrate the eternal love between couples. 
This fast starts from sunrise and ends in the evening with moonrise. After seeing and worshiping the moon, women open their fast and drink water. This vrat is most widely observed in Punjab, Haryana, Rajasthan and Uttar Pradesh. The day is marked for strengthening loving tie between married couple.it is also a time when female members of family and friends come together to celebrate this festival
Karwa means a "pot" and Chauth tithi means 4th day of the lunisolar month. Karak Chaturthi is another name of Karwa Chauth. Mention of this festival is present in Vaman Puran.
Women observe this fast for longevity, good health and success in the life of their husbands. They pray Lord Shiva, Mata Gauri, Lord Kartikeya and Lord Ganesh for granting long life and well-being of their husbands.
This day married women spend their day in making special food items which they offer as bhog. On the day of fast women apply mehndi or henna on each other hands. They also adorn themselves with beautiful ornaments.Generally wearing red or maroon color dress considered auspicious for the puja. In Punjab, women eat sargi early in the morning prepared by their mother-in-law and after that, they don't have a drop of water until moonrise.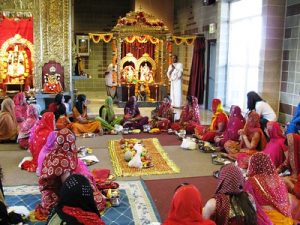 Karwa Chauth Vrat – Puja Vidhi and Mantra
Traditionally married women observing this fast wake up early in the morning. After taking bath they should recite this mantra for Sankalp.
"mam sukh suabhagyaputrapoutradisusthirshrepaptaye
karakchaturthivratmaham karishyashe "
"मम सुख सौभाग्यपुत्रपौत्रादिसुस्थिरश्रीप्राप्तये करक चतुर्थी व्रतमहं करिष्ये"
In the evening make the vedi of sand( balu) and write pepal tree.then place murti of Shiva, Parvati, kartikay, and Ganesh. Nowadays calenders of karwachuth vrat is available in market where all God and Goddess with peepal tree are shown. Then pray them with this mantra and do shodshopachar pujan. 
Namah shivay sarvanyay subhagyam santatim shubham|
Prayaksha bhaktiyuktanam narinam harvallabhe ||
नमः शिवाय शर्वाण्यै सौभाग्यं सन्ततिं शुभाम। प्रयच्छ भक्तियुक्तानां नारीणां हरवल्लभे।।
After praying offer the bhog of Laddo made of ghee, wheat flour, and raw sugar. When the moon appears, women pray and read karwachauth vrat katha and offer water (arghya) from the earthen pot(karwa). With worshiping moon fast culminates and women break their fast by drinking water. In Punjab after sighting moon with the sieve, they also see their husband through the sieve and open their fast by drinking water from their husband's hand.
Karwachauth Vrat Katha
A long time ago in Shaakprasthpur, there was a Brahmin known as Ved Dharma. He had seven sons and a daughter named Veeravati. After marriage, Veeravati observed karwachauth fast for the first time but could not tolerate the thirst and hunger and desperately waited for the moon to rise. Seven brothers felt pity for their only sister. Therefore, they lit a lamp behind peepal tree and with the help of sieve made it look like the moon has risen.
When Viravati saw moonlight in the sky gave arghya and started to have meal. However, her bhabhi advised her to not eat but she ate. With the first morsel, she got a death news of her husband. She started crying and rushed to his husband's place.
On the way, she met Indrani. On requesting, Indrani told her that their brothers created the false moon and her husband died because she broke her fast without the appearance of the moon. After knowing what she did, Veeravati asked for the forgiveness. Indrani instructed her to keep fast on Chauth of every month for one year. She kept fast for an entire year on the 4th day of the waning moon. On completing the fast with full dedication, her husband revived, and they lived happily ever after.
Furthermore, the importance of this fast is mentioned in Mahabharata. Lord Krishna himself advised Draupadi to keep this fast since Goddess Parvati observed this fast for Lord Shiva. As instructed Draupadi observed this fast with full devotion and eventually Pandavas got rid of their problems.
Reading and listening karwachauth vrat Katha makes one absolve of their sins.