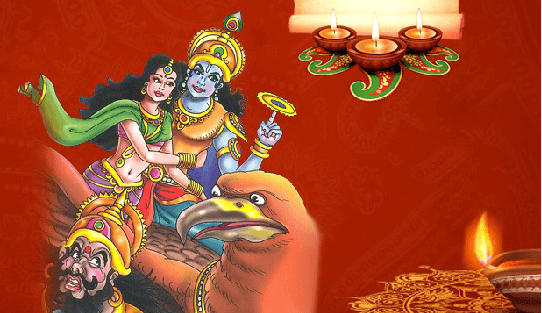 Narak Chaturdashi or Choti Diwali is celebrated one day before Diwali. It's the second day of the five-day-long festival of Deepavali. Here we have got you to read the importance of Narak Chaturdashi, why it has been celebrated, and puja vidhi with mantra.
Importance of Narak Chaturdashi
Narak Chaturdashi falls in the Hindu calendar month of Kartik, in Krishna paksha on the 14th day. It is also a harvest festival and celebrated all across India in a wide variety of ways.
Narak Chaturdashi, also known as Kali Chaudas, Roop Chaturdashi, and Bhoot Chaturdashi, celebrated India with great zeal and joy. This year, it will be celebrated on 3rd November 2021.
Narak Chaturdashi
Naraka Chaturdashi or Choti Diwali is the second day of the Deepawali festival. On this day, people light diyas and ignite firecrackers. In northern states like Uttar Pradesh, Madhya Pradesh, Punjab, and Haryana, People keep diyas at their doorstep to ward off evil and miss happening.
Kali Chaudas
In Maharashtra, Gujarat, and some parts of Rajasthan, People celebrate this day as the victory of good over evil. Goddess Kali is fierce yet kindhearted and protects their devotees from all wickedness. This day, people worship her to get rid of persistent illness, protect them from evil spirits, and come out of bad debts.
Hanuman Jayanti
After winning Lanka, Ram and Seeta distributed gifts to everyone, including Hanuman. Seeta gave Hanuman her favorite pearl necklace, but Hanuman said that he doesn't find the name of Lord Ram in the chain, and, Thus he doesn't want to keep it. Then, Mata Seeta gifted him Sindoor from her forehead and said, this sindoor is precious to me because It pleases Lord Rama.
Hence, Hanuman accepted this gift of sindoor with joy and gratitude. Therefore, on this day, devotees of Lord Hanuman offer him sindoor and oil to get his blessings.
Bhoot Chaturdashi
In west Bengal, People celebrate Choti Diwali in the form of Bhoot Chaturdashi. This day people believe that 14 departed forefathers come to see their family members, so people lit 14 diyas all around the home.
In Tamil Nadu, people worship Goddess Lakshmi and observe an all-day-long fast called Nombu.
Some Indian states of southern, celebrate this day as main Diwali.
The Story associated with Narak Chaturdashi
In dwaper yuga, Demon king Narakasur got so powerful that he started to torment everyone on the earth. Drunk by power, he abducted 16000 princesses and made a captive of them. Therefore, after a request to save them from demons, Lord Krishna and his wife Satyabhama came to their rescue and released them after killing Narakasur.
In the end, Narakasur asked for a boon to Satyabhama, who happened to be a mother of Narakasur in the previous avatar, that this day should be celebrated with colorful lights. That's why people light diyas and lit firecrackers on Narak Chaudas.
Narak Chaturdashi Puja Vidhi
Kartik Krishna Chaturdashi is also celebrated as Roop Chaturdashi. This day people take a bath before sunrise. Before taking a bath, rub sesame or til oil all over the body. This process, Abyangasnan, is a must-have ritual of Narak Chaturdashi. Before doing abhyanga, take Sankalp with this mantra.
"यमलोक दर्शनाभावकामो अहम्भ्यङ्ग्स्नानां करिष्ये "
"Yamlok darshanabhavokamoabyangam karisye"
However, In Kartik month, abhyanga is forbidden, but on Roop or Narak Chaturdashi, it saves one from going to yamlok. This snan brings happiness and good luck and also protects from misfortune.
Mantra for Lord Hanuman
to get the blessings of Lord Hanuman, follow this process
Firstly, take an early morning bath. After taking a bath, take Sankalp chanting this mantra-
"मम शौर्यादर्यधैर्यादि व्रद्धयर्थं हनुमत्प्रीतिकाम्नाय हनुमञ्जयन्ति महोत्सवं करिष्यसे "
"Mam shauryadaryadhyeradi vradhayeartham hanumatpreetikamnaye hanumanjayanti mahaotasav karishasye"
After taking Sankalp, worship Lord Hanuman by shodashopchar. Then, Offer sindoor mixed with oil to the vigraha or murti of Lord Hanuman. For Naivedyam, prepare churma made with ghee, flour, and sugar or offer jaggery and poha.
After offerings of flour modak, fruits like banana and guava, read the Sundar Kand. In the night lit the diyas in a row.
For those who celebrate narak Chaturdashi, lit four-sided Diya, facing east direction, chant this mantra.
दत्तो दीपश्चतुर्दश्यां नरकप्रीतये मया |

चतुर्वर्ति समायुक्तः सर्वपापनुत्तये ||
Datto deepashchatudashyam narapreetay maya|Chaturvartisamayukatah sarbapaapnukatye||
As per the Ling Purana, devotees should make donations after chanting this mantra. In fact, Donation is the easiest way to attain devotion.
Doing fireworks on this day liberates the spirits of those who have died from a meteor. Chant this mantra before igniting crackers –
अग्निदग्धाश्च ये जीवा ये प्यदग्धाः कुले मम | उज्जवल्ज्योतिषा दग्धास्ते यान्तु परमां गतिम् ||
agnidagdhasch ye jeeva apyadagdha kule mam |
Ujjawaljyotisha dagdhaste yaantu paramam gatim ||
Fundamentally, The celebration of Narak Chaturdashi symbolizes the victory of good over evil.
If You liked the information about Narak Chaturdashi Puja vidhi, Please share it with your friends and comment on your experience with this festival.
You may also like to read about Dhanteras and Deepavali.
Happy Diwali to all the readers of Devotionalfolks.